Mead, a well-known honey wine that has been around for more than a thousand years, is fermented using water and honey. Some say it was by accident that mead was first discovered when rainwater mixed with honey and fermented. The result? Something they soon referred to as a "drink for the gods."
With the drink providing old fashioned ideas around "healing", we'll look into its health benefits to understand what we can gain from consuming mead wine today, so we can all enjoy honey mead Australia wide.
Let's Talk About Honey Mead
Honey mead, or mead as it's simply known, is an alcoholic drink produced by fermenting honey and water. It has been processed and consumed for more than 4,000 years. Aside from being a very old, traditional alcoholic beverage, it is very common across Asia, Europe and Africa and has similarities to wine, beer and cider.
What makes mead so unique is that honey is its main fermented ingredient, unlike other alcoholic beverages which use grains, wheat, sugar, yeast or coconut as its main component.
Modern times have seen honey mead processed not just with water, honey and yeast, but with different kinds of fruits, herbs, spices, grains, flowers, and other ingredients to produce many different flavours.
Mead also has an alcohol content that varies between 5-20%. Its flavour ranges from very sweet to very dry and can be purchased in sparkling and still versions.
Drink of the Gods
The Greeks often referred to mead as the "Drink of the Gods" during historical times and often associated it with good health and vitality. It was even used as a "healing" drink for warriors wounded in battle.
While many stll believe in the healing benefits of drinking mead, there is very limited evidence to support these ideas.
Most assumptions revolve around the idea that honey, its main ingredient, has probiotic content because of the fermentation process. As with many alcoholic beverages, it's relaxing to drink and you feel good while enjoying it.
Healing Benefits of Honey
Research has shown that honey has powerful antioxidant and antimicrobial properties which has encouraged both ancient and modern people to use it to treat a variety of ailments. It is often used for skin problems and wounds or taken orally to soothe coughs and sore throats.
People also strongly believe in the potential probiotic benefits for the gut and boosting immunity. Studies and research made regarding the positive health benefits of probiotics are still in its infant stage, some research indicates that it can help treat chronic diseases such as cancer, heart ailments, allergies and gastrointestinal disorders.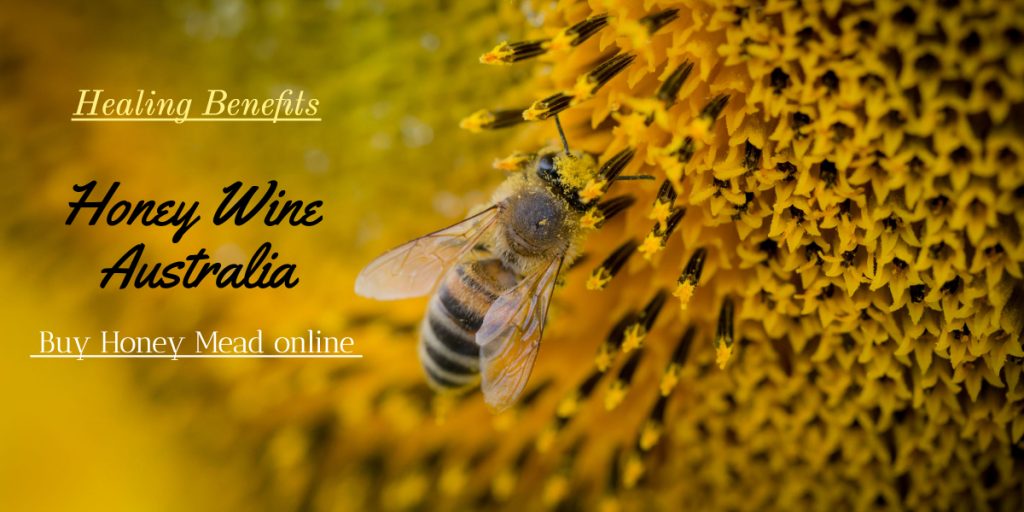 However, there is no available research that evaluates mead as a definitive source of probiotics, or how the drink may affect your health. Also, the ingredients in different types of mead can vary greatly. What's more, the fermentation process and the other ingredients included in the beverage could affect the concentration of beneficial bacteria in the final product. Furthermore, alcohol can counteract any positive health benefits of probiotics in any drink. So, more research is needed in the long run. In the short term, however, we know it's a delicious drink made from natural ingredients which does benefit from honey being a staple of the drink.
Honey Wines Australia is also a qualified beekeeper and uses premium local produce as part of their high quality honey mead, with nothing artificial added.
Alcohol Content of Mead
As it an alcoholic beverage, it is important that drinking mead is done in moderation; just like any other alcoholic drink since too much is counter-productive for our health. However, drinking mead in moderation, even periodically, can be enjoyed as part of a healthy, balanced lifestyle.
Honey Wines Australia
Honey mead is widely enjoyed today and, with so many varieties to choose from, you're certain to find a flavour which suits your taste.
If you're wondering, where to buy the best mead in Australia? It's easy. Honey Wines Australia produces and brews high quality honey mead and offers free delivery nationwide for orders of $149 and over. The team offers premium tasting and excellently processed mead, using their own honey produced in house, all served in a range of flavours. To buy high-quality and delicious honey mead Australia wide, don't waste time and visit Honey Wines Australia.